In a world where versatility and family-friendly transportation are paramount, the Perodua Alza emerges as a compelling choice, embodying the essence of Perodua's commitment to innovation and reliability. With the captivating slogan "Versatility Reinvented," the Perodua Alza is not just an ordinary MPV; it's a transformational experience for families seeking a vehicle that seamlessly blends comfort, safety, and style.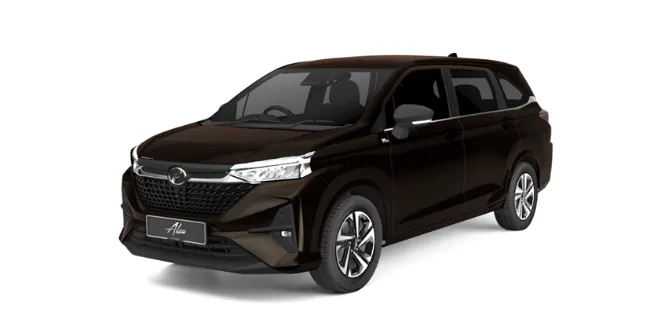 As a Family 7 Seater MPV, the Perodua Alza 2023 is designed to cater to the diverse needs of modern families. It offers ample seating and cargo space, ensuring everyone can travel in comfort while still accommodating all the necessities that family life demands.
One of the most impressive features of the Perodua Alza is its multiple drive modes, a first for Perodua. The Eco, Normal, and Power modes allow drivers to customize their driving experience, striking a perfect balance between fuel efficiency and performance to suit any situation.
In addition to its versatility, the Perodua Alza comes with the assurance of a 5-year warranty, providing peace of mind to owners and reaffirming Perodua's commitment to quality and durability.
Safety is paramount, and the Perodua Alza doesn't disappoint in this regard. Equipped with Perodua Smart Drive Assist (P.S.D.A) and boasting the company's first-ever 360 Panoramic View Monitor, the Alza offers advanced safety features to protect both driver and passengers, ensuring a worry-free journey.
Fuel-conscious consumers will also appreciate the Alza's impressive fuel consumption of 22 kilometers per liter, making it an economically sound choice for the budget-conscious family.
Last but not least, the Perodua Alza is available in five exciting colors, allowing owners to express their individuality and style while enjoying the practicality and sophistication that this remarkable MPV offers.
In summary, the Perodua Alza is a game-changer in the world of family-oriented vehicles, redefining versatility and setting new standards for safety, efficiency, and style. With its innovative features, exceptional warranty, and striking design, the Alza is the perfect choice for families who demand more from their MPV.
Perodua Alza Video Overview
Perodua Alza 2023 Exterior
The Perodua Alza 2023 boasts a contemporary and stylish exterior design that seamlessly combines aesthetics with functionality. This family-oriented MPV is designed to turn heads while offering practicality and versatility for daily use. Below is a brief breakdown of the key exterior features and specifications:
The Perodua Alza 2023's exterior design strikes a harmonious balance between aesthetics, functionality, and practicality. Its modern and dynamic appearance, complemented by advanced features, makes it a standout choice in the MPV segment, appealing to families and individuals alike.
Perodua Alza 2023 Interior
The interior of the Perodua Alza 2023 is a testament to thoughtful design and attention to detail, creating a welcoming and comfortable environment for both the driver and passengers. Below is a brief breakdown of the key interior features and specifications:
The Perodua Alza 2023's interior is designed with passenger comfort and convenience in mind. It offers a well-appointed cabin with an array of modern features, making it a practical and enjoyable choice for daily commuting and long journeys alike. Whether you're transporting your family or friends, the Alza's interior ensures a comfortable and connected ride.
Perodua Alza 2023 Price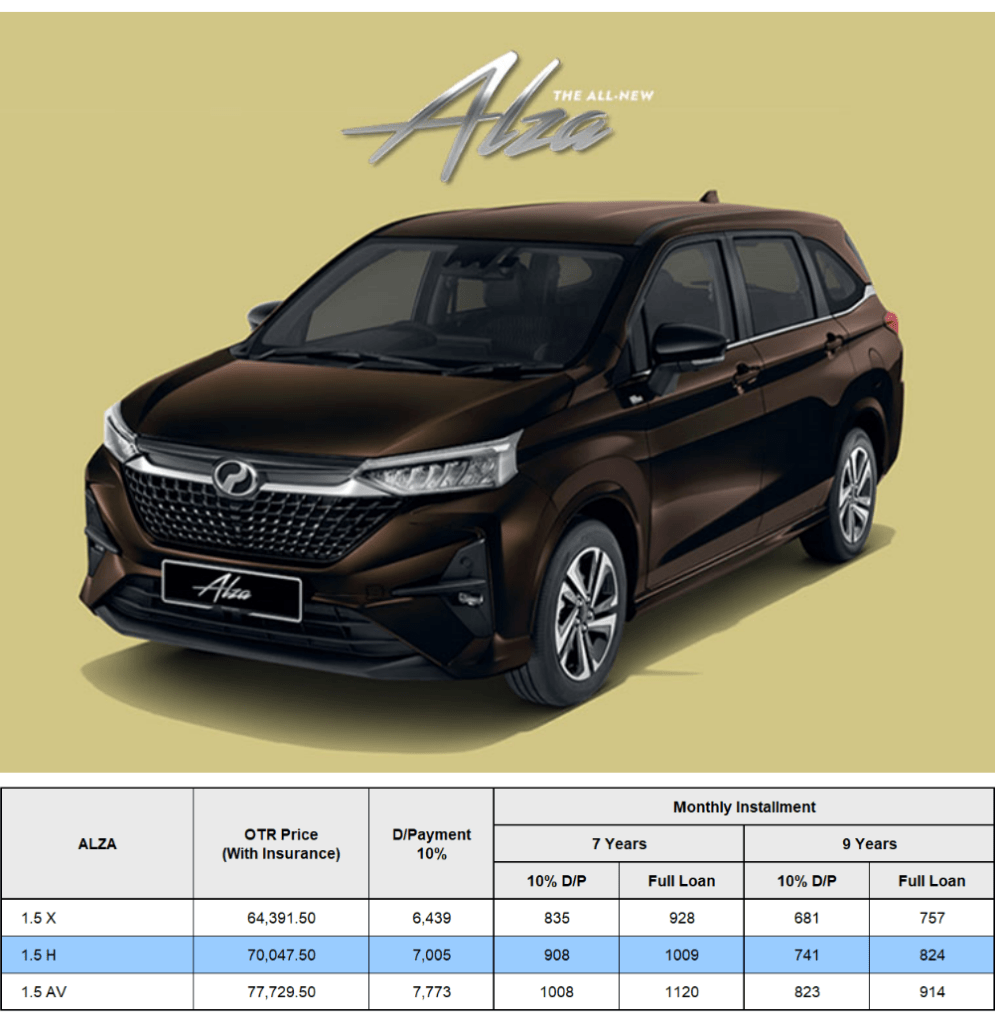 The Perodua Alza 2023 is available in three distinct variants, each catering to different preferences and needs. Here is a breakdown of the pricing for each variant:
| Variants | Price (RM) |
| --- | --- |
| Alza 1.5 X | RM64,391.50 |
| Alza 1.5 H | RM70,047.50 |
| Alza 1.5 Advance | RM77,729.50 |
The pricing structure for the Perodua Alza 2023 offers a range of options to suit varying budgets and requirements. Whether you're looking for a well-equipped base model or a top-tier variant with advanced features, the Alza lineup provides choices for discerning customers seeking value, quality, and versatility in their MPV.
Perodua Alza 2023 Loan Calculator
To help prospective buyers make informed decisions about financing their Perodua Alza 2023, a loan calculator can be a valuable tool. This calculator allows you to estimate monthly loan payments based on factors such as the car's price, down payment, interest rate, and loan tenure.
Keep in mind that actual loan terms, interest rates, and down payment amounts may vary based on individual financial institutions and credit profiles. Prospective buyers are encouraged to consult with banks or financial institutions to obtain precise loan quotes tailored to their specific circumstances.
This tool is intended to give potential buyers an approximate idea of what to expect when financing their Perodua Alza 2023 and can be used to plan their budget accordingly.
Perodua Alza 2023 Color
The Perodua Alza 2023 offers a vibrant range of color choices, allowing buyers to personalize their vehicle to suit their individual style and preferences. Here's a breakdown of the enticing color options available for the Alza:
| Color Option | Description |
| --- | --- |
| Vintage Brown | Vintage Brown adds a touch of warmth and sophistication to the Alza's exterior, making it stand out on the road with its unique and earthy appeal. |
| Elegant Black | Elegant Black exudes timeless class and a sense of luxury. It provides a sleek and modern appearance, enhancing the Alza's overall aesthetic. |
| Garnet Red | Garnet Red is a vibrant and eye-catching color choice, radiating energy and enthusiasm. It's an excellent option for those looking to make a bold statement. |
| Glittering Silver | Glittering Silver offers a clean and contemporary look, emphasizing the Alza's modern design lines while exuding a sense of sophistication. |
| Ivory White | Ivory White is a classic and timeless choice, creating a crisp and fresh appearance that complements the Alza's versatile and family-friendly character. |
The Perodua Alza 2023's color palette provides a diverse range of options, allowing buyers to match their vehicle to their personality and preferences. Whether you prefer a bold and vibrant statement or a classic and understated look, the Alza's color choices cater to a variety of tastes, ensuring that your vehicle is an extension of your style.
Perodua Alza 2023 Frequently Asked Questions (FAQs)
What is the price of the new Perodua Alza 2023?
The prices for each variant of the new Perodua Alza 2023 are as follows:
Alza 1.5 X: RM64,391.50
Alza 1.5 H: RM70,047.50
Alza 1.5 Advance: RM77,729.50
Are the above Alza prices inclusive of insurance and road tax?
Yes, the listed Alza prices include insurance and road tax for Peninsular Malaysia.
Are the monthly payments for the 2023 Perodua Alza mentioned above average estimates?
Yes, the monthly payments provided are average estimates based on a 3.2% interest rate. The actual payments may vary depending on the interest rate offered by the bank or financial institution
How long is the waiting period to get the Perodua Alza 2023?
The waiting period to get the Perodua Alza 2023 is typically 1-3 months, but it can vary depending on several factors such as market demand, the variant ordered, color choice, and location. We will provide the latest information on the waiting period when you place your order.
How can I calculate the monthly installment for the purchase of the Perodua Alza 2023?
You can use the Perodua Loan Calculator provided to calculate the monthly installment based on the amount of the down payment, loan duration, and stated interest rate.
How can I place an order for the Perodua Alza 2023?
Here's an easy way to place an order for the Perodua Alza 2023:
Prepare the required documents as mentioned above.
Email your documents to nzrcars@gmail.com or;
Whatsapp your documents and details to Mr. Nazrin
Conclusion
In conclusion, the Perodua Alza 2023 is a testament to Perodua's commitment to providing versatile, family-friendly, and innovative vehicles. With its modern exterior, well-appointed interior, advanced safety features, and a range of customizable options, it stands as an excellent choice for those seeking a reliable and stylish MPV. Whether you're in need of a spacious family vehicle or simply want a versatile and comfortable ride for daily commuting, the Alza delivers on multiple fronts. Its competitive pricing and various trim levels make it accessible to a wide range of buyers, ensuring that there's an Alza to suit your needs and budget.
If you've been intrigued by the Perodua Alza 2023 and its impressive features, we invite you to explore the entire Perodua lineup to discover more exceptional vehicles designed to cater to diverse lifestyles and preferences. Whether it's compact cars, SUVs, or other innovative models, Perodua continues to set new standards in the automotive industry. To explore the full range of Perodua models, please check out at the bottom of this page, where you can find other Perodua vehicles. Join us in experiencing the Perodua difference and discover the perfect vehicle to suit your unique needs and desires.
Explore Perodua Models