In a world where the automotive industry constantly strives for innovation and excellence, the Perodua Axia stands out as a testament to the harmonious blend of aesthetics and intelligence. With its captivating slogan, "Pretty. Smart.," the Perodua Axia embraces the ideals of modern driving by offering not just style but also substance.
One of the key highlights of the Perodua Axia 2023 is its commitment to customer satisfaction. It comes backed with a generous 5-year warranty, assuring owners of reliable performance and peace of mind. Beyond this, the Perodua Axia places paramount importance on safety, featuring the innovative Perodua Smart Drive Assist system. This advanced safety technology serves as a guardian on the road, providing drivers with an extra layer of protection, ensuring they reach their destination safely.
Efficiency is at the heart of the Perodua Axia's design, as evidenced by its remarkable fuel consumption rate of 27.4 kilometers per liter. This not only saves you money but also reduces your carbon footprint, making it an environmentally responsible choice.
Adding a dash of personality to your driving experience, the Perodua Axia offers a range of 5 exciting colors to choose from. Whether you prefer a vibrant hue or a classic shade, there's a color option that suits your individual style.
In summary, the Perodua Axia is not just a car; it's an embodiment of the modern driver's desires and needs. It promises beauty in design, intelligence in technology, and the reassurance of safety, all while being eco-friendly and customizable to your taste. Welcome to the world of the Perodua Axia, where pretty truly meets smart.
Perodua Axia Video Overview
Perodua Axia 2023 Exterior
The Perodua Axia 2023 boasts a modern and dynamic exterior design that not only enhances its visual appeal but also contributes to improved aerodynamics and fuel efficiency. This compact hatchback is thoughtfully designed to provide a balance of style and functionality, making it an ideal choice for urban and suburban driving.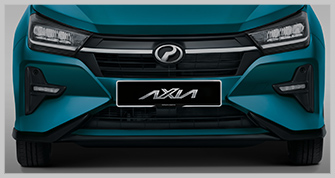 Overall, the Perodua Axia 2023's exterior design reflects a blend of contemporary styling and practicality, making it a standout choice in the compact car segment. Whether you're navigating city streets or embarking on a weekend getaway, the Axia's exterior is designed to make a lasting impression.
Perodua Axia 2023 Interior
The interior of the Perodua Axia 2023 is a testament to thoughtful design, functionality, and comfort. Despite its compact size, this hatchback offers a surprisingly spacious and well-appointed cabin that enhances the overall driving experience.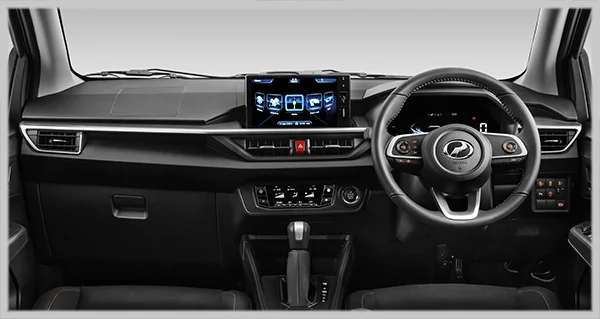 In summary, the Perodua Axia 2023's interior is more than just a functional space; it's a comfortable and inviting environment that enhances the driving experience. Whether you're commuting in the city or embarking on a road trip, the Axia's interior provides the comfort and convenience you need.
Perodua Axia 2023 Price
The Perodua Axia 2023 is a cost-effective choice in the compact car segment, offering a range of models to cater to various preferences and budgets. Here's a breakdown of the prices for the different Axia 2023 variants:
| Variants | Price (RM) |
| --- | --- |
| Axia 1.0 E (MT) | RM25,051.50 |
| Axia 1.0 G (AT) | RM39,919.95 |
| Axia 1.0 X (AT) | RM41,375.05 |
| Axia 1.0 SE (AT) | RM45,485.30 |
| Axia 1.0 AV (AT) | RM51,123.10 |
The Axia 1.0 E (MT) serves as the entry-level model, providing an affordable option for those seeking a reliable and economical vehicle. As you move up the trim levels, you'll find additional features and technology, with the Axia 1.0 AV (AT) representing the top-tier model with advanced amenities.
These competitive prices make the Perodua Axia 2023 an attractive choice for budget-conscious consumers without compromising on quality, comfort, and modern features. Whether you prioritize affordability, style, or advanced technology, there's a Perodua Axia variant to suit your needs.
Perodua Axia 2023 Loan Calculator
When considering the purchase of a Perodua Axia 2023, it's essential to have a clear understanding of your financing options. A loan calculator can assist you in estimating your monthly installment payments based on factors such as the car's price, interest rate, and loan tenure. Here's a simplified breakdown of how a Perodua Axia 2023 loan calculator might work:
Loan Amount: The loan amount is the total cost of the Perodua Axia model you choose, including additional expenses like insurance and road tax.
Interest Rate: The interest rate represents the annual interest percentage charged by the bank or financial institution providing the loan. This rate may vary depending on your creditworthiness and the lending institution's policies.
Loan Tenure: The loan tenure is the duration over which you'll be repaying the loan. It's typically measured in months.
Monthly Installment: The monthly installment is the amount you'll need to pay each month to repay your car loan. It includes both the principal amount (the loan amount) and the interest.
Perodua Axia 2023 Color
The Perodua Axia 2023 offers a vibrant selection of colors, allowing buyers to personalize their vehicles and make a style statement. Here are the exciting color options available for the Perodua Axia 2023:
Coral Blue: This lively blue hue adds a touch of freshness and vibrancy to the Axia's exterior, making it stand out on the road.
Granite Grey: A sophisticated and timeless choice, the Granite Grey option gives the Axia a sleek and modern appearance.
Lava Red: For those who prefer a bold and eye-catching color, Lava Red is a striking choice that exudes energy and personality.
Glittering Silver: Glittering Silver provides a classic and elegant look, making the Axia appear refined and polished.
Ivory White: Ivory White offers a clean and pristine appearance, enhancing the Axia's overall sense of purity and simplicity.
These color options give Perodua Axia 2023 buyers the opportunity to express their individuality and preferences, ensuring that their vehicle reflects their unique style. Whether you opt for a bold red or a subtle silver, the Axia's exterior colors are designed to complement its modern and dynamic design.
Perodua Axia 2023 Frequently Asked Questions (FAQs)
What is the price of the new Perodua Axia 2023?
The prices for each variant of the new Perodua Axia 2023 are as follows:
Axia 1.0 E (MT): RM25,051.50
Axia 1.0 G (AT): RM39,919.95
Axia 1.0 X (AT): RM41,375.05
Axia 1.0 SE (AT): RM45,485.30
Axia 1.0 AV (AT): RM51,123.10
Are the above Axia prices inclusive of insurance and road tax?
Yes, the listed Axia prices include insurance and road tax for Peninsular Malaysia.
Are the monthly payments for the 2023 Perodua Axia mentioned above average estimates?
Yes, the monthly payments provided are average estimates based on a 3.2% interest rate. The actual payments may vary depending on the interest rate offered by the bank or financial institution
What is known as Axia Rahmah?
Axia Rahmah refers to an affordable and reasonable pricing offer. This initiative was introduced under the Malaysia Madani government driven by KPDN and Traders. Perodua also launched the Axia E 2023 as a RAHMAH initiative for the target group.
How long is the waiting period to get the Perodua Axia 2023?
The waiting period to get the Perodua Axia 2023 is typically 1-3 months, but it can vary depending on several factors such as market demand, the variant ordered, color choice, and location. We will provide the latest information on the waiting period when you place your order.
How can I calculate the monthly installment for the purchase of the Perodua Axia 2023?
You can use the Perodua Loan Calculator provided to calculate the monthly installment based on the amount of the down payment, loan duration, and stated interest rate.
How can I place an order for the Perodua Axia 2023?
Here's an easy way to place an order for the Perodua Axia 2023:
Prepare the required documents as mentioned above.
Email your documents to nzrcars@gmail.com or;
Whatsapp your documents and details to Mr. Nazrin
Conclusion
In the world of compact cars, the Perodua Axia 2023 emerges as a true triumph of innovation and design. With its eye-catching aesthetics, advanced technology, and stellar performance, it offers a driving experience like no other. Whether you're a daily commuter seeking fuel efficiency or an enthusiast looking for a thrilling ride, the Axia delivers on all fronts.
As we bid farewell to this exploration of the 2023 Perodua Axia, we invite you to discover more about this exceptional vehicle at your nearest Perodua dealership. Take it for a test drive, experience its comfort and performance firsthand, and join the growing community of satisfied Axia owners. Your journey towards automotive excellence begins with the Perodua Axia, where every drive is an adventure waiting to be embraced.
Explore Perodua Models